Shocking news about branded watches this year
There are no milestones to report this week – just another round-up of five of the most notable vintage timepieces of all time. Included in this issue are a group of early Breitlings that make up a salesman's set, two unique and complicated tool fake watches from Heuer and Favreux-Lerba, and a stolen Longines watch.
When sharing marketing material from the early days of watchmaking, or historical material related to vintage brands, I usually like to emphasize the important role these articles play in today's day and age. While they won't be of any real use in your daily life, these articles can give you a glimpse into the way now-famous watches were once marketed and sold, which is extremely valuable to watch scholars and enthusiasts alike. I could easily dig up another poster, book, or retail display, but in the spirit of the starters, we've got a beast unlike any other.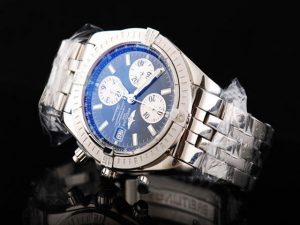 If you want to learn more about how the industry has evolved, selling watches to retailers is a worthwhile rabbit hole to go down. Before trade shows became the primary avenue for sales between watchmakers and retailers, brands and their distributors were getting creative with sets like this one from Breitling. The set, which includes three 30mm watches showcasing chronograph complications and full-calendar moon phases, is designed to give people an idea of Breitling's capabilities as a watchmaker and ultimately expand its retailer network. Based on the brand's current state of development, I think this angle is worth a shot.
As a set of samples for a salesman, rather than a collection of watches purchased for someone's own use, all three fake Rolex watches are in excellent untouched condition and come with their original boxes marked with a "sample" cursive. I'd almost go so far as to say that the boxes should be more meaningful than the watches, as these are watches you've likely seen before in some form or another, but the boxes tell the story of the brand's structure and strategy. Whether or not the next owner should actually wear these watches is 100% up to them, but for the sake of historical preservation, I'd personally hold off.